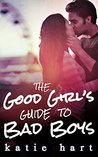 There's nothing better than a bad boy…
When feisty break dancer Andrea left for university, she thought she was ready to step into the real world. But she wasn't prepared for meeting her new neighbour, Hunter.
Arrogant, dangerous and a bit too sexy, Hunter's everything Andrea knows she should resist…and can't.
But when she gets swept up into Hunter's dark, mysterious family, it seems that falling for a seductive rebel might not be all it's cracked up to be. Is this good girl really ready to take on a bad boy?
Wattpad sensation Katie Hart is the queen of bad boys! Her debut, The Good Girl's Guide to Bad Boys, is perfect for fans of Kirsty Moseley
Katie Heart
Jen's Review
My rating:
4 of 5 stars
Cute Story!!!
There wasn't much break dancing in this book - but it was fun to read about
Andy was on her own in her new life after leaving her mom for the first time.
When she finally got to her new flat, her new roommate wasn't expecting a girl.
Hunter was a hot, but scary guy, but Andy knows how to defend herself... verbally.
She's quick with her thinking and tells Hunter exactly what she thinks of him.
Hunter's life is anything but glamorous - he is the son of the leader of a huge gang with a lot of pressures. But Hunter doesn't want to follow in his dad's footsteps, he doesn't want anything to do with the life of crime. But getting out is harder than it should be. His life is on the line. And with Andy right there next to him, her life becomes in danger as well.
These guys are really cute together - Hunter doesn't seem like the type of guy that cares for someone else, but the way he and Andy go at it with their arguments, it really starts to stir up feelings. And with their little bets on the side, it's downright comical
Really enjoyed reading this one :)