I
ran away from the glitz and privilege of my famous New York City family to this small-town Texas college to find myself. I didn't expect to find him...
...the muscular, tatted bad-boy who would soon become my obsession.
He was broken, lost, and voiceless ...
just like me.
His eyes smoldered me with one look.
His touch awakened the woman inside me.
And through his lips, his perfect, plush, kissable lips, he drew out the inspiration deep in my soul I did not know was there.
I needed to believe that he could save me. I wanted him to help me find my voice at last ... the voice that would set me apart from my tragically perfect family, the voice that would finally break me free ...
If only he could hear a word of it.
The College Obsession Romance series centers around a group of friends and the relationships they form during their time at a small-town Texas school. They are angsty, steamy new adult novels with HEAs and NO cheating. Although they are obsession-themed romances, there are no stalkers or psychos!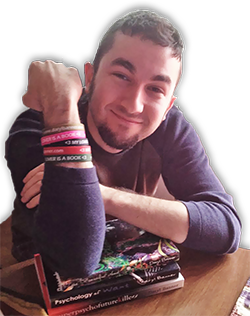 AUTHOR
Daryl Banner
If you have an editing, formatting, or music composition inquiry, or
simply want to ask a question about my work, please don't hesitate
to message me here, or write me an email at
darylbanner@yahoo.com
* Please include your name and e-mail so I can get back to you.
You can also message me on Facebook, or join The Doorway,
my secret Facebook group, and hang out with other fellow readers!
Jen's Review - 5 Stars!
I connected with this story a lot - I lost my hearing when I was 17, not a lot of people learned sign so I relied on lipreading ever since - it's a struggle and sometimes a burden for others, but it's life -
Really great story :)